Game Night Plays for Laughs and Wins [Review]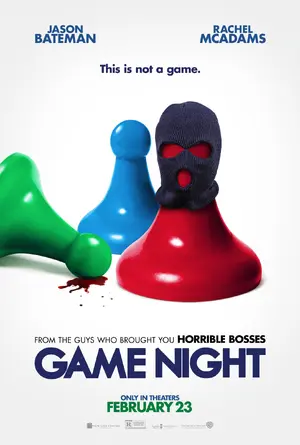 Game Night
Directed by: John Francis Daley, Jonathan Goldstein
Written by: Mark Perez
Starring: Jason Bateman, Rachel McAdams, Billy Magnussen, Sharon Horgan, Lamorne Morris, Kylie Bunbury, Jesse Plemons, Michael C. Hall, Kyle Chandler
Production company: Davis Entertainment, Aggregate Films, New Line Cinema
Distributed by Warner Bros. Pictures
Release date February 23, 2018
Running time 100 minutes
Rated R for language, sexual references, and some violence

Bateman and McAdams star as Max and Annie, whose weekly couples game night gets kicked up a notch when Max's charismatic brother, Brooks (Chandler), arranges a murder mystery party, complete with fake thugs and faux federal agents. So when Brooks gets kidnapped, it's all part of the game – right? But as the six uber-competitive gamers set out to solve the case and win, they begin to discover that neither this game – nor Brooks – are what they seem to be. Over the course of one chaotic night, the friends find themselves increasingly in over their heads as each twist leads to another unexpected turn. With no rules, no points, and no idea who all the players are, this could turn out to be the most fun they have ever had… or game over.
Rule one of a comedy is be funny, rule two is do not push the joke, rule three is do not talk about fight club.  Game Night only broke one of these two rules, it is the fight club one.  The jokes, which is the point of a comedy after all, were not forced and flowed naturally from the narrative setup.  When the inevitable wackiness ensued none of the characters acted outside their established archetypes. The point is, Game Night is pretty damn funny, and managed a pretty clever and puts an original twist on some common comedy tropes.
Now it's not all funny wine and roses, there are flaws in the comedy canvas.  The contrived plot left plot holes large enough to watch a better movie through.  And the one-dimensional characters were predictable clichés.  But it is more about what you do with these shortcomings, when some filmmakers would overcompensate, these filmmakers embraced them.  Directors John Francis Daley, Jonathan Goldstein made a lot of creative decisions that paid off in some big ways.  Such as the use of a tilt-shift effect on several of the overhead pan shots which made the exterior sets look like a board game, and the waving of pop-culture references through the film to keep it grounded.  Although the pop-culture references may be more credited to screenwriter Mark Perez, who managed to keep a balance of crass crude humor and clever nuanced jokes, with a dash of slapstick.  It was very well balanced, and the directors and screenwriter worked incredibly well together.
Game Night may not be the height of cinematic humor, but it is far from the bottom of the film-can.
Be sure to check out my Rants and Reels review on YouTube
Leave us a Comment