Conan The Avenger starts a new Arc in THE DAMNED HORDE
With his new group of warriors, "Amra's Bastards" that comprised of Royal Guard defectors from Shambalia. Conan is in search of a horde of treasure, but to find it they must rescue from the city of Nippr the slave sister of a tongue-less girl and her drawn map. A simple snatch and grab goes a bit awry before it can even unfold.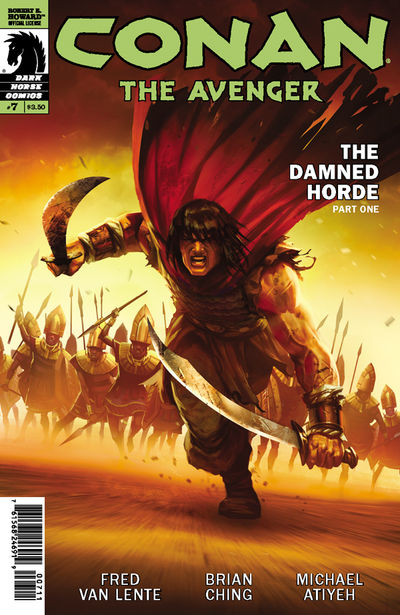 Conan The Avenger: The Damned Horde
Writer: Fred Van Lente
Artist: Brian Ching
Publisher: Dark Horse Comics
Release Date: October 29th, 2015
Buy your copy of Conan the Avenger #7 to be delivered right to your doorstep!
First, I want to note that Brian Ching is back in this run, if you read my reviews of this story so far. You'll know that I am greatly happy with his artwork during the first issues he was a part of for Conan The Avenger. I'm glad he'll be the one closing this out over the next four issues to this series conclusion. Ching's artwork is my all time favorite out of all the Conan comics I have read and reviewed for WPR, and I've read A LOT of Conan Comics from Dark Horse. Brian Ching has a style that is clean yet gritty enough to pay homage to the artwork that you typically associate with Conan comics. I'm especially impressed with his depiction of Conan and I think should serve as a template for how Conan should look. When Eamon the Flayed made his entry on this comic, I audibly said. "Whoa". Seriously, I can't tell you guys enough how much I enjoy this artwork.
We meet the Damned Horde that Amra's Bastards essentially gets absorbed into. A very scary ragtag bunch under the exiled Prince Almuric of Koth. This will set the stage for the eventual ending of our story, which coincidentally was the beginning. We know from the first pages, that Conan and the Damned Horde end up cutting a swathe of land as they dwindled in numbers, eventually leaving just Conan and a talking slave girl we can assume is the sister they are looking for. He forced the thirsty girl, in the desert, while on their last legs to drink all of their last reserves of water. Then draws his sword while she is temporary stunned from consuming so much too quickly. It's a true show of kindness but only in a way barbarians would appreciate.
The story that Fred Van Lente has been weaving is incredibly satisfying. I'm interested to find out how much of this story was pieced together from Robert E Howards unfinished work and how much of this is additions created by Van Lente. Honestly, I can't tell the difference, that is just how seamless and true to the Conan story this run has been. If you haven't picked up any of the previous issues, go buy them now. If you're a digital guy like me, Dark Horse Digital to read the first six issues in a bundle, their system is far better than any other application I've used before for buying digital comics.
Leave us a Comment