Doberman #1: Action Attraction
Opulent 80's rogue cop tale Doberman pays homage to the popular and sometimes campy action crime genre.
Doberman
Creator/Writer: Scott Marder, Rob Rosell and Jack Lambert
Artist: Brandon McKinney
Colorist: Zac Atkinson
Publishers: IDW and Darby Pop
Release Date: July 16, 2014
Snag a copy of Doberman #1 to be delivered right to your face door!
Last summer, Darby Pop Publishing joined IDW in a partnership designed to help both companies. Now at their first year anniversary, the publishers have releasedDoberman, an action crime comedy that acknowledges and celebrates cheesy 80s cop films. The sensational story follows LAPD Detective Frank Doberano who goes by "the Doberman."
Doberman is part Mel Gibson in Lethal Weapon, part Bruce Willis in Die Hard and a pinch of Chuck Norris thrown in for good measure. Fighting crimes and laying on heavy sarcasm, Doberman protects the streets of LA with a pretzel stick dangling from his mouth.
Created by Scott Marder, executive producer for FX's cult hit It's Always Sunny in Philadelphia, Doberman keeps the action moving while constantly winking at its audience.  The comic is co-written by Always Sunny writer Rob Rosell with Jack Lambert, and they fill every speech bubble with carefully quipped and often ridiculous banter. Drawn by Brandon McKinney and colored by Zac Atkinson, Dobermanhas a Saturday morning cartoon quality that is saturated with color. A perfect choice for the flashy world of 1980's Los Angeles. The first issue was a terrific foray into the life and times of Frankie Doberano and reminiscent of the SoCal 80s in a Beverly Hills Cop sort of way.  If you're looking for a fun read that will keep you chuckling, this should absolutely be on your summer reading list.
Yippy Ki Yay!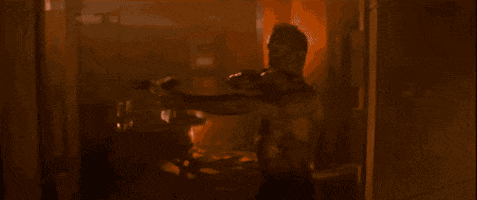 Leave us a Comment