Comic Review: The Wake #1-10
Scott Snyder steps back from the world of superheroes to venture deep into the ocean with The Wake.
The Wake #1- #10
Writer: Scott Snyder
Artist: Sean Murphy
Publisher: Vertigo
Release date: July 30, 2014 for issue #10
Order Wake HC for your shelf now!
Vertigo's The Wake is really two stories that take place in the same world but at vastly different times. The ten-issue series follows two women: Dr. Lee Archer and a woman known only as "Leeward." The first, Dr. Archer, is a marine biologist living in the present day who works with a scientific crew deep on the ocean floor studying creatures known as "Mers." However, these aren't the Mers of myth – they certainly aren't sweet singing sirens with perky breasts and long flowing hair. Much the opposite, Snyder's Mers are fierce, swimming monsters with mind control abilities thanks to just a single spray of their hallucinogenic venom. Archer's team, employed by the Department of Homeland Security, is attempting to investigate the threat these newly discovered foes pose to humanity. As one can probably assume, things do not go smoothly.
In The Wake's second half, we're introduced more fully to Leeward – a young punk rock dame who spends her time with a sonic dolphin named Dash. Leeward is a healthy mix of Han Solo and Tank Girl, battling the now well known Mers in an effort to stop them from advancing their territory. Her adventure truly begins when she joins a band of pirates in search of a signal that seems to call to her. The signal could be an answer to stopping the Mers and discovering their true purposes.
Snyder has completely nailed storytelling, giving his characters depth and feeling while creating believable obstacles in an original sci-fi world. He continues to challenge the "horror" genre as well as evolve an iconic legendary sea creature, giving Mers a totally new spin. This alone has me looking forward to his take on the somewhat overdone witch genre when he releases Wytches this October. But until then, the ending of The Wake is so grand and unconventional it will blow your mind and keep you talking about it for days afterward. Moreover, as a zealous fan of Punk Rock Jesus, I was absolutely giddy over Sean Murphy's alluringly reckless art style. He is currently my favorite artist on the comic scene, and his work here on The Wake proves why. Murphy manages to give his work a haphazard quality while maintaining characters with mannerisms of pure and delicate emotion. His muted colors only add to his truly unique style, and he's also super nice in person. Snyder is also extremely affable and I could gush about my con experiences with both for hours, but I'll spare you.
Trust me when I say that you should give The Wake a whirl, and then read it again. The story will leave you floating in a pool of suspended disbelief while filling you happily with possibility and wonder. Pick up the ten issues now or succumb to drowning in your own lament.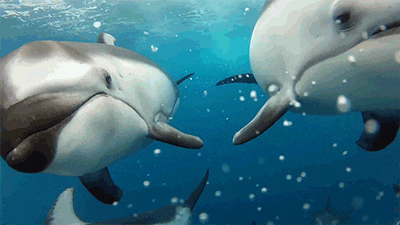 Leave us a Comment